Description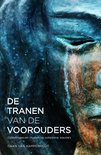 De tranen van de voorouders
Opstellingen en rituelen bij collectieve trauma's
€29,-
Op voorraad. Voor 23:00 uur besteld, morgen in huis
Free shipping!
Victims and perpetrators always remain part of the history of a collective; their voices keep whispering, just out of reach of our normal audience.
Dealing with collective trauma is the central theme of The Tears of the Ancestors. How do you deal with the unresolved suffering of groups of people whose lives are scarred by the legacy of war and violence, on the side of both the victims and the perpetrators?
In The tears of the ancestors , Daan van Kampenhout uses three sources: constellations, shamanism and Judaism. Apparently these three have little in common, but all three assume that the ancestors are an important and near source of strength; that there are different souls or soul layers; that nothing and no one can exist in a vacuum; and that healing of the individual requires community involvement. From the interface of the three sources, Daan developed systemic rituals, which have a healing effect especially for collective trauma.
Daan van Kampenhout has been providing shamanic training for over thirty years, and for twenty years he has been an influential teacher in the field of systemic constellations at home and abroad. His books have been translated into ten languages.
" An important contribution to our understanding of the problems that result from collective trauma" – Rabbi Dr. Zalman Schachter-Shalomi